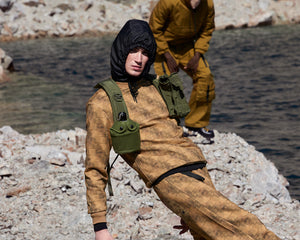 SUSTAINABILITY
When we say that our clothes are built to last, we mean it. For us, sustainability is a very serious matter, and it is based on three pillars: certified raw materials, a legacy of technical knowledge, and small-scale production.
As we constantly search for new ways we can improve and meet our environment's everchanging needs, we took the standard 3Rs policy – reduce, reuse, recycle – and gave it a twist.
BRVN is all about the 3Ls: Long-lasting, Low-maintenance, and Low-impact.
LONG-LASTING
We believe in slow fashion. By choosing to work only with premium quality materials from certified suppliers, and employing skilled seamstresses who craft our garments with the highest attention to detail, we are able to increase the longevity of our pieces. Besides being a savvy and profitable investment for the consumer, encouraging the "buy less, buy better" mentality, it's also the most responsible choice for the planet.
LOW-MAINTENANCE
We believe in saving resources. Using cutting-edge patented technology to create antibacterial and anti-odor fabrics that are inspired by high-performance sportswear, our pieces require less washing and less overall maintenance.
Not only does this reduce water waste, it also increases the product's durability, making it even more sustainable for the long haul.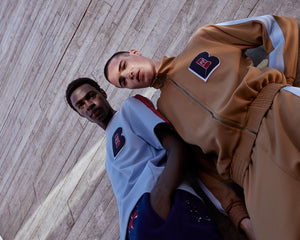 LOW-IMPACT
We believe in local, small-scale production. Our clothes are produced in small batches, delivering only what the market demands.
And our in-house team allows us to produce premium quality pieces in an ethical working environment.
Additionally, everything in our factory, from archive folders to warehouse cardboard, is either reused or recycled, keeping the
ecological impact of our business to a minimum. Our bags, paper and hangtags are made from certified recycled materials, and we make sure our packaging is
reusable.
Our premium quality cotton is certified by the Global Organic Textiles Standard, which guarantees fair treatment of
employees and that no toxic chemicals were used in the production cycle.
All of our fabric is certified with the OEKO-TEX & REACH Certification Standard
100 (Certification of the European Commission).
We make clothes that meet the needs of our people. And our planet.
Brave fashion, built to last.